The adventure got started from Rome, where Vic and Mr. Spooner spent a night in a 'reasonable' hotel.
When they got to the train station 2E they found that the train left several meters from the spot where they were standing, and thus the hiking adventure started with a sprint, and they just made it.
They had one train change on their way to Siennna, and had a later start than originally planned. 
Vic says that Sienna is a beautiful city, and on the day they were there, it was full of tourists. Below is a picture of Sienna's main square...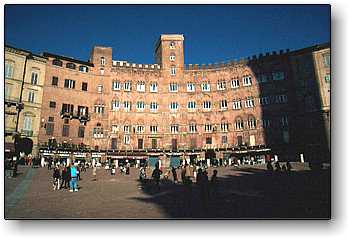 They headed to  the main square and with some wandering found their way through the town and on to the trail.
Vic says, "An explorer is never lost...... Ok we did some exploring.:/" Here is Charlie reading some maps... Two maps and lots of exploring...
It was getting dark as they arrived in Monteroni d'arbia, and they needed to find a place to stay.
They finally found a place but it was full. The owner said he had a Bed & Breakfast 2 km away, and had them pause until he explained that he would drive them. 
It was a nice room for 40 euro. (approximately $50 Canadian)
As usual Vic was up early and on the road by 8am, and even with that they had another hike in the dark late in the day. 
There were no rooms anywhere, no hotel, but they didn't panic yet. They took a taxi to the next town where they stayed in a high end fancy spa. 
Vic texted from the lobby where he was hanging out with a large group of Japanese tourists. 
More details later...