Adventure. It starts with a plane flight and ends with a story and memories to last a lifetime. When interviewing my dad, Vic, over the phone I was fascinated by little details like what the food was like, or the trees, or how my brother Darren used a gift of a bar of ivory soap to gain advantage on a ferry. 
I know or hear of a lot of people going to Cuba. Sometimes they come back with a tan and tell me how the beach was nice or how they had fun in the resort dancing. This particular trip to Cuba gives an alternative to lying on a beach sipping on one's cerveza (beer). 
It's all part of Vic's continuing plan to combat AADD, Adult Adventure Deficit Disorder...
Vic and his son Darren landed in Varadero (Spanish pronunciation: [baɾaˈðeɾo]), a resort town in the province of Matanzas, Cuba, and one of the largest resort areas in the Caribbean. The weather was cloudy and the temperature was aboout 20 degrees celcius, perfect for their bike riding adventure. 
Darren and Vic took bus about 3 hours to Santa María del Mar, a sandy beach located about 20 km east of Havana, Cuba along the Via Blanca highway.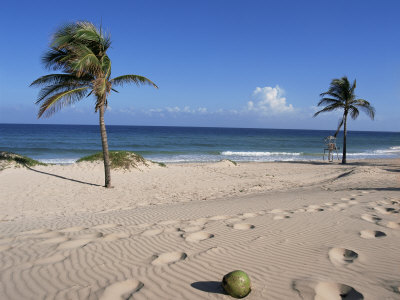 The little resort they stayed at for their first night was a reasonable place about 200 metres from the beach. Back in the days when the Russians were in Cuba it would have been a prime resort, but since Russians left it has become a little worn down. For example, the pain was peeling off the walls, but overall it was a decent place to stay.
They spent one night in that hotel, and unpacked their bikes getting ready for the big road trip. Their bikes only cost $30 to put on the plane to Cuba, and they had to flatten the tires and package them up very tightly in bike boxes. When getting the bikes ready it wasn't too difficult to pump the tires back up and put it all together.
Vic had researched and found out there was a bike donation program via the Cuba Cycling Association and he donated his bike at the end of the trip! Considering they only saw maybe 15 foreigners riding bikes over the time they were there, I am not sure how many actually get donated. But, Vic's bike was an expensive one and I am sure they appreciated it!
Day one was a 25 km bike ride to Havana. Vic said many times that it is important to remember it might be 25 km to get there, to the edge of the city, but the city itself is huge and that adds a lot of time cycling.
Havana (/həˈvænə/; Spanish: La Habana, [la aˈβana] is the capital city, province, major port, and leading commercial centre of Cuba.The city proper has a population of 2.1 million inhabitants, and it spans a total of 728.26 km2 − making it the largest city by area, the most populous city, and the third largest metropolitan area in the Caribbean region.
Once they got to the edge of Havana, Darren and Vic had to cross the harbour either via a tunnel or take a ferry, which was maybe 5 times the size of the little green Harbour Ferries in Victoria or Nanaimo harbour. They decided to take the ferry with their bikes and were tightly squeezed in amongst the other passengers for the 20 minute ride.
Vic said there was security at many places and certainly entering cities, and they search your bags, much like border crossings or airport security. Darren gave them Ivory soap which got them pushed through the line-up at the ferry. Darren had researched that soap was a commodity and might help them get through a few line-ups and get some favours. As well, he found out pens were useful items to give away for favours.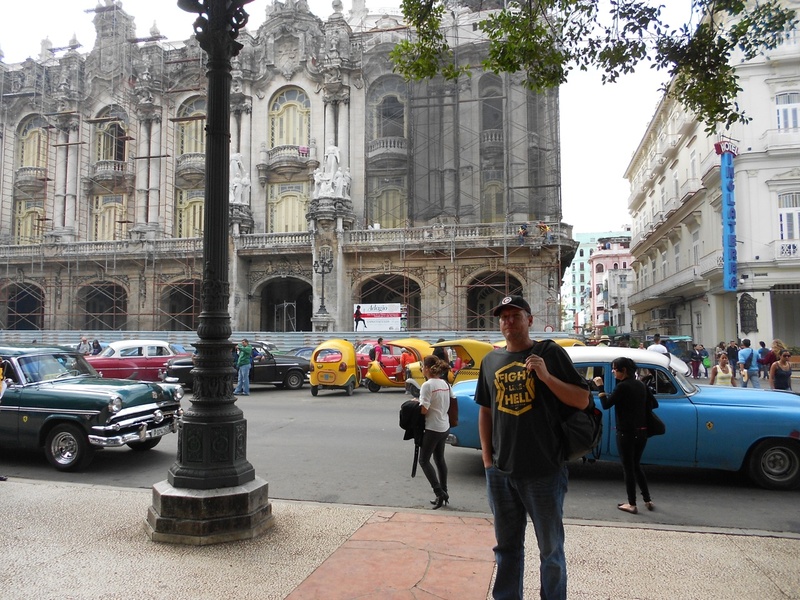 Vic and Darren were told when you are approaching a Casa (Bed a breakfast) that people will try and misdirect you, but even with the warning, Vic and Darren managed to get misdirected. Since Vic and Darren couldn't find Umberto's, where they were supposed to stay, they ended up following a guy named Ochoa who took them down the opposite side of street so that they couldn't see where they had booked to stay. He even told them that it had burned down! Although they knew this was likely a lie, they decided that they needed a place to stay and followed Ochoa anyway.
It turns out being led astray to another venue of accomodation was not a bad thing as Vic says it was first class. 
They each had their own big room with a big bed, and a fridge filled with Cervesa (beer), which Darren was quite happy about. There was a huge patio area as well.
Darren had some goals when visiting Cuba and one was to go to a baseball game, so Ochoa was happy to take Darren out to a game.
He was also able to help Vic with one of his Cuban goals and that was to speak with ex-national volleyball coach, Eugene George, winner of four Olympic gold medals. It was really great to hear that Eugene remembers Vic and with some language barriers they were able to have a short conversation.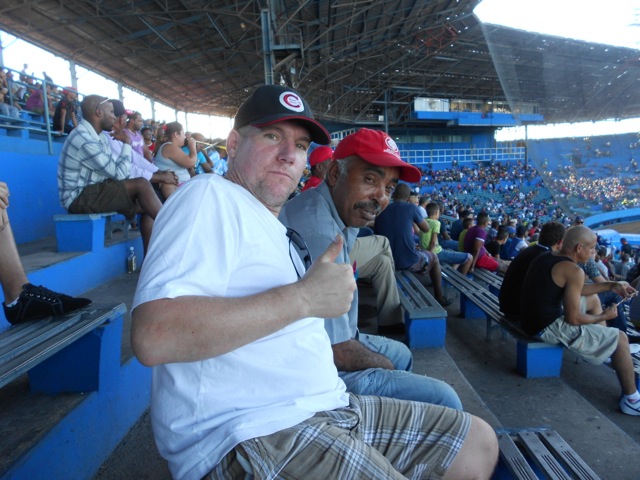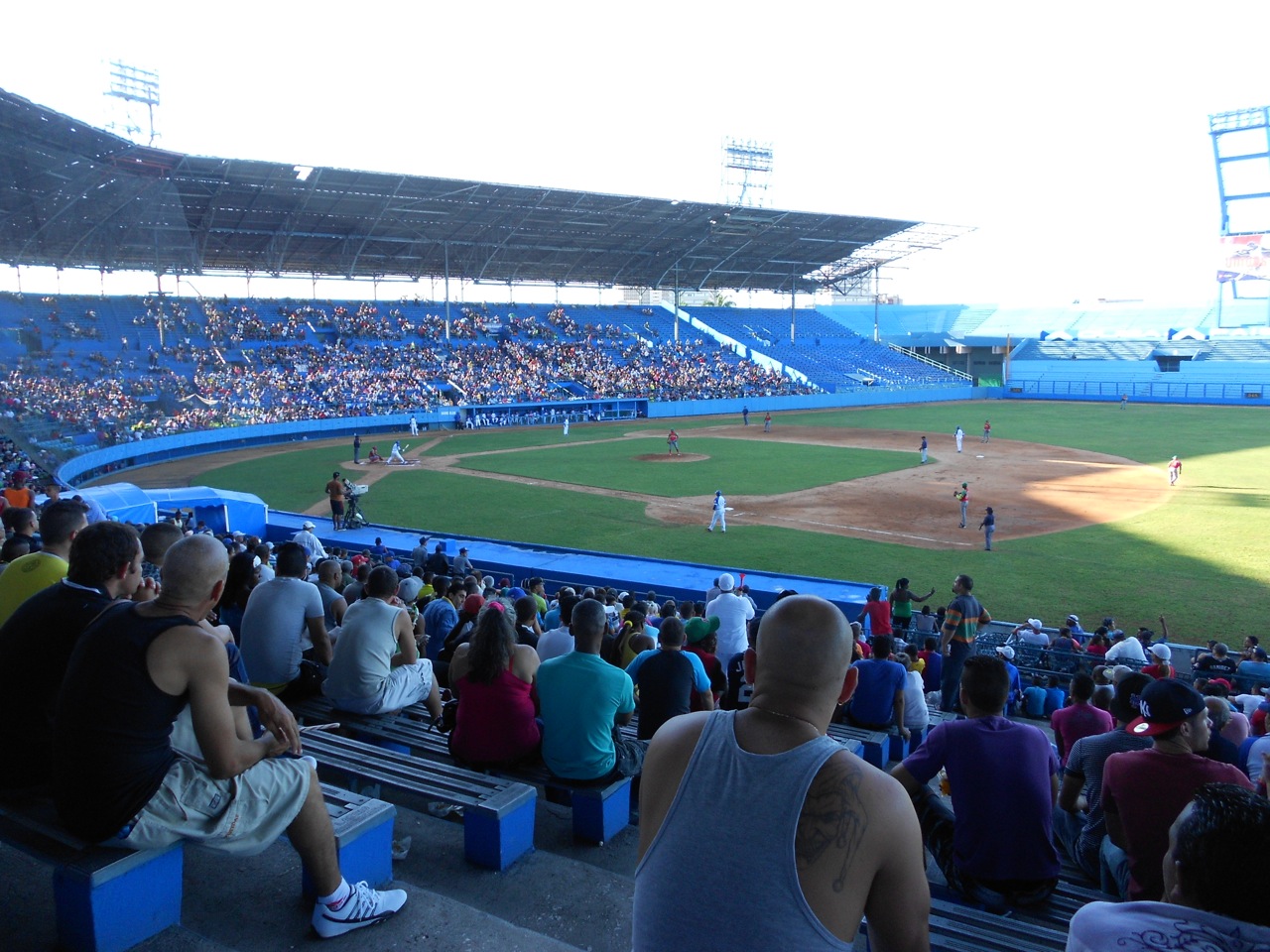 Vic and Darren found it hard to get out of Havana mostly because of the size and they were a little concerned about leaving as it had rained the night before. They went for it though, and pushed forward for a 70 km bike ride that day to Las Terrazas.
Las Terrazas is a small community and nature reserve in the municipality of Candelaria, Artemisa Province, Cuba. It is located in the Sierra del Rosario mountains (part of Guaniguanico range), which was designated a Biosphere Reserve by UNESCO in 1984.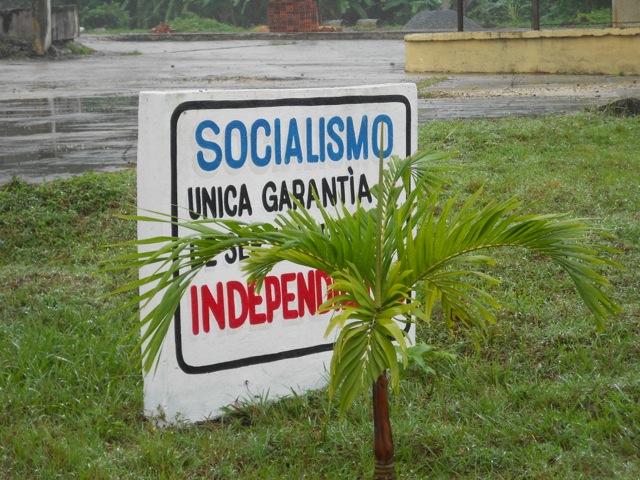 They chose to take the Autopista (freeway) out of town (6 lane highway). There was not a huge amount of traffic so they pretty much had one lane to themselves. The grass on the side of the freeway was cut by machete! Vic says it is a good thing Cuba has 100% free medical, and has one of the best medical systems in the world. Speaking of medical, a neat little fact Vic also mentioned is that Cuba sends Doctors to Brazil, and Brazil sends money to the Cuban government for the Doctors. Not only do they have great medical, but they also have one of the highest literacy rates in the world.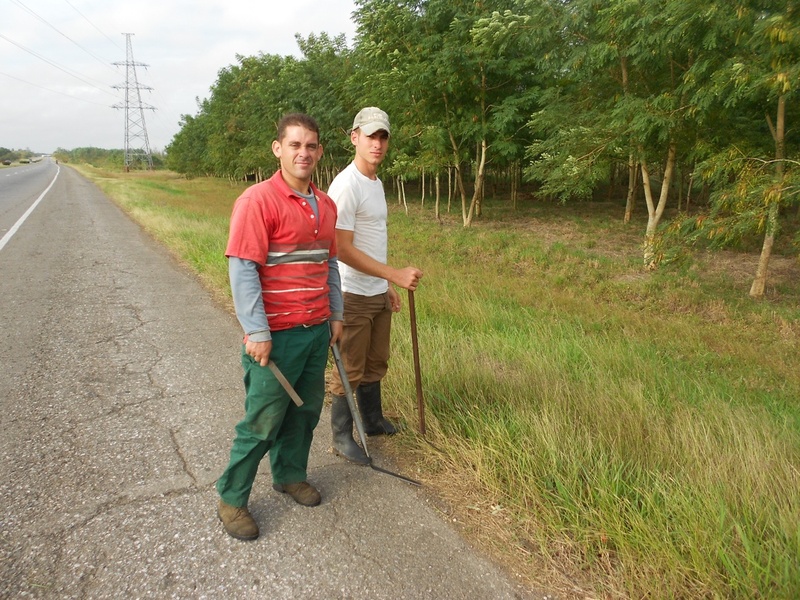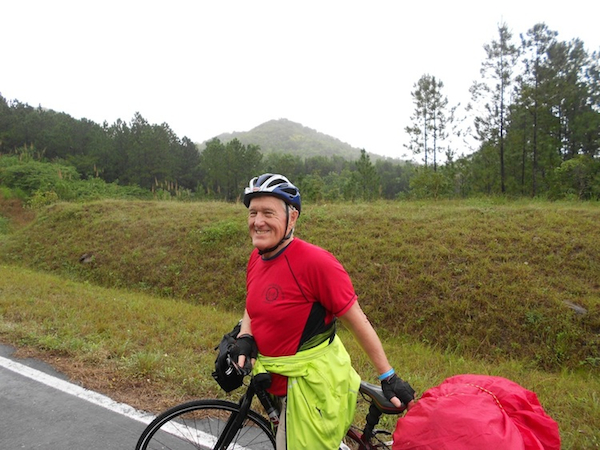 Darren and Vic knew it was going to be hilly into the last section of this portion of their bike riding adventure, up hill through pine tree woods, so they were somewhat prepared, but a little walking here and there made some hills a little more bareable. When they got to the end of this 70km, they were met by a big gate. As listed above, it is a heritage spot, so you have to prove where you are going in order to get in.
They asked for directions to the bed and breakfast they had booked, and in this case, no one tried to misdirect them, so they went back 3km to their bed and breakfast,  Villa Duque. It was a nice place to stay with great food! They were asked if they wanted pork, beef or chicken, and most meals in cuba have brown rice and beans. Villa Duque was set in farm country in the hills, where Darren and Vic didn't have to worry about alarm clocks, as Vic says, "Roosters start awfully early."
Although there was a power outage overnight, it didn't affect the breakfast which was cooked using little gas stoves.
I am not sure where this particular food picture is from on their journey, but here is a nice example of the food...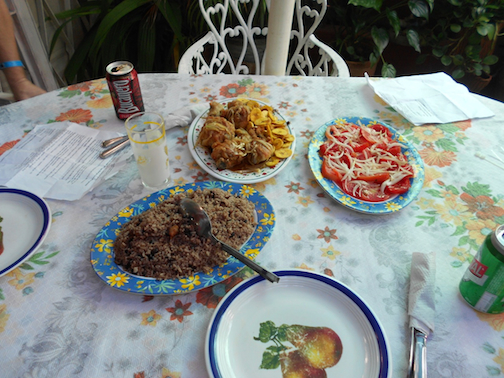 The next portion if this adventure was a hilly, rainy, 30km where they walked part of the way to eventually end up in Soroa. The sun did finally come out that day in this remote area where no vehicles were spotted.  
As they approach the town, there they were,  the people who try to get you to go somewhere other than the place you booked. This time Vic and Darren knew where they were going. In speaking to Vic, at this point in the story he suggests for others on this type of journey to spend a couple days in each city exploring.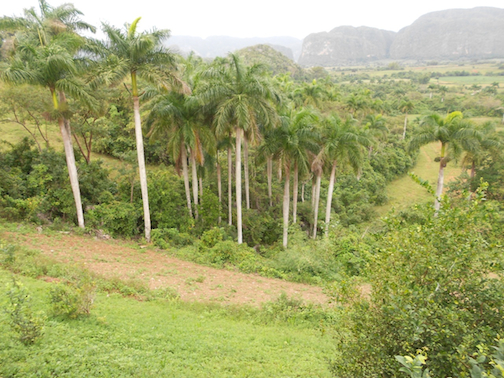 Vinales was the next destination. This was longest stretch of the biking journey, a heafty 100km. The last 12 km contained hills and more hills. Vic says, "Let me tell you we were happy when saw the sign coming into Vinales."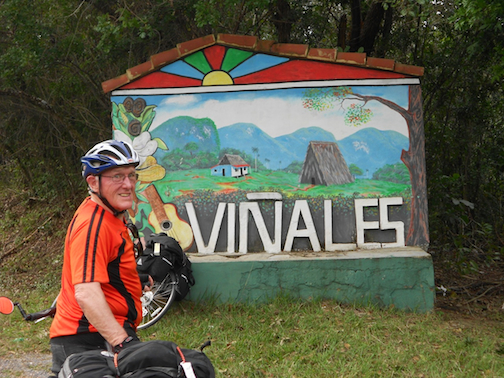 Vinales is another heritage area prominent in tabacco growing. It had been a 6 hour bike ride that day.
As it was in every town, they were greeted by someone, but this time that someone was claiming to be a travel guide. They have hikes going into the mountains, so Darren took the guys cell number, and planned to do hike, but they couldn't find him.
Another guy was there, and as Vic says, "He was an active member of the adult beverage program", but he still managed to take them on a tour. They climbed up a hill, through cave, then into a beautiful valley where they were introduced to a man who was making cigars. Their tour guide, Ivan, made sure he had a few rum and cokes before heading back from the little exursion. Here are a few pictures... 
Up a hill...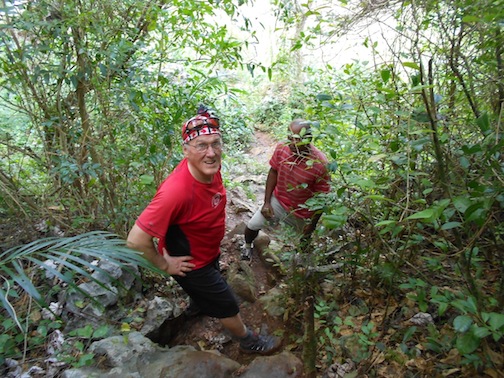 About to enter the cave...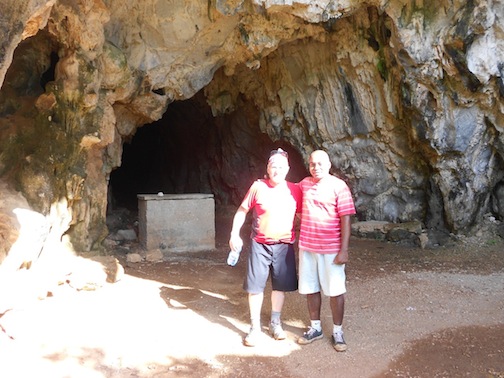 Aaah success, on the other side...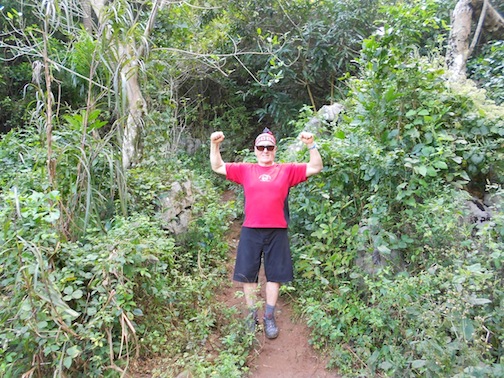 Tobacco Valley...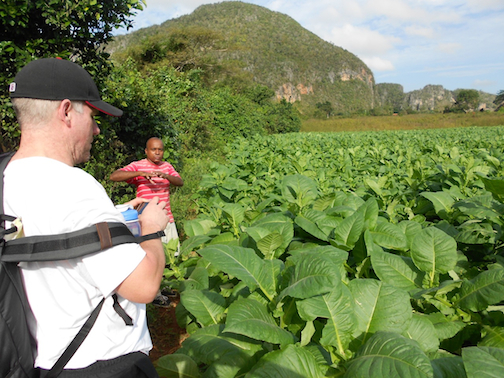 That night they stayed in 4 star Casa 'Mercedes' in Vinales. They really likes that place, so they wanted to find a way to spend a couple more nights there, but where they stayed was full up, so they stayed at a place across the street, which was nice, but not the four star plus quality of their first Casa in Vinales. 
Darren left his sandals outside overnight, and the next morning there was only one. The people in Vinales put out an all out bulletin for the missing sandal, and it was discovered that the sandal had been taken!... by a little dog, and thankfully he hadn't chewed it up. The dogs are quite passive in Cuba, and Vic tells me that you could hardly get them to wake up. Vic remembers hiking in Italy where the dogs would bark a km before you got to them and kept barking a km after!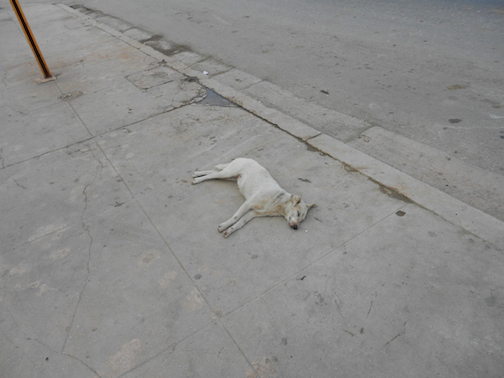 No, the dog in the aobve picture is not dead, just really mellow...
The next part of their journey started out on a backroad. They were warned with worried looks of this road being quite a difficult path to travel, but as Vic says, "Of course it would be rough for a car because some of the pot holes were big enough to barry a car, but we were on bikes, so not a big deal." It was an adventure, and every possible obstacle seemed to make the journey that much more interesting for Vic and Darren.
Vic an Darren hadn't booked accomodation past that point, and they debated going further into the province of Pinar Del Rio, where they had been exploring, but finally decided to turn back to Havana, Darren did get a cabby to drive them to the beach. It was 40km for $40, and the cabby dropped them off and picked them up after. Darren wanted to snorkel, but those areas weren't good for snorkeling as there weren't many fish.
Vic said that on the inland roads, there was a side road made of grass for animals. He said that he and Darren went pretty slow for most of the trip, but managed to pass this guy...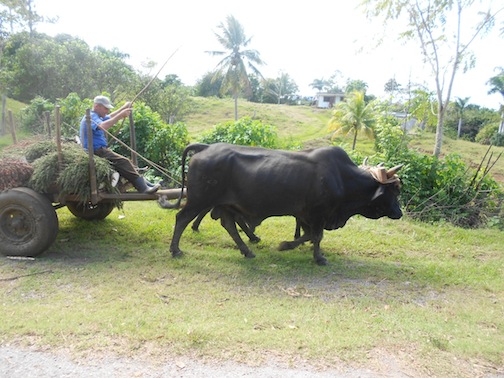 Now they were heading back to Havannah. Bahia Honda was the next stop, though unplanned. As they were approaching, they were looking for a guide, and sure enough Ernesto, who speaks no English brough them to their next destination. Darren didn't like it because of the mosquitos, so Ernesto took them to another place around the corner. Vic wasn't worried as he had mosquito repellent. Food consisted of a lot of brown rice and beans, with your choice of meat. This was not a resort town, so they didn't have any blankets on the bed. It was important to always check if there was hot water where you stay, and there was so that was good. Vic and Darren bought dinner and a few cervesas for Ernesto.
Vic liked to get to bed early as per usual, but Darren liked to get as much of Cuba as possible, so he went out, and while Ernesto was happy to be the late night tour guide, he couldn't keep up with Darren so he did a hand off to a buddy. Darren made it back and he and Vic managed to get on the road one more time the next morning.
The bus story…..
I know all of us kids were taught by Vic, "How do you know unless you ask.", and that is what Darren did next. The amount of bike riding would be a bit tiresome for anyone, but maybe the late night exploring of the town made it even a bit more difficult. Opportunity arose, and Darren flagged down a school bus, full of highschool students and convinced the bus driver to give them a lift! So, they got a free 25 to 30 km bus ride, holding on to their bikes in the middle of a full school bus!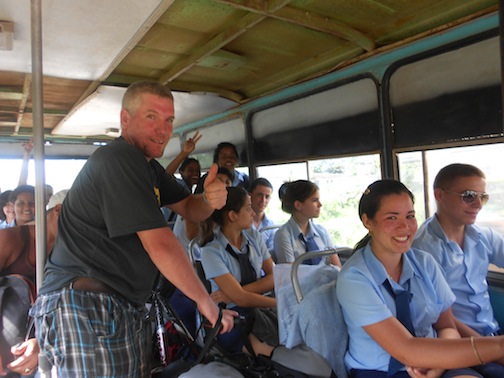 Now back to the freeway (Auto Pista) When approaching Havannah, it is a long way to get to the actual destination, as Havannah is of course huge, as mentioned before. Their goal was to get down to the Malacon, and the idea was that there are some pretty high class resort hotels down there. They eventually found their way down to the Hotel Panorama, a beautiful hotel, right on the water, where they had a nice swim and dinner.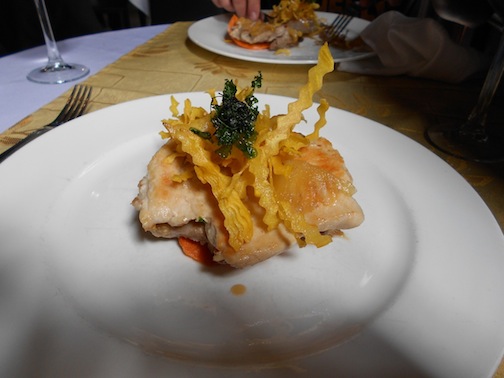 Ordering a taxi-van was the next step, so that rather than taking the ferry or tackling the tunnel, they could just get a nice easy ride out of Havana to their original Casa, where they returned to see people who were just hanging out, and hadn't gone anywhere the whole time Vic and Darren were adventuring. When Vic told me this, it made me think that if and when I travel next, I should make some effort to truly explore my surroundings, because if not, I might as well go hang out in a tanning bed and look at pictures online.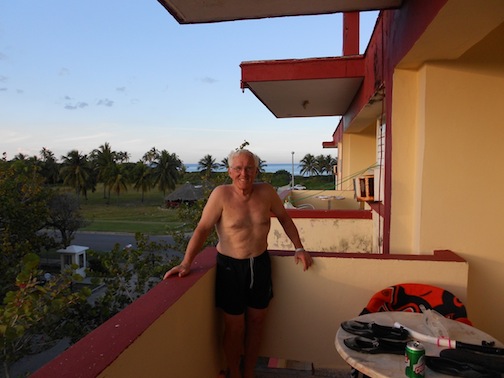 Darren was determined to find a place to snorkel, and he decided the best idea would be to head 50 km south to Jibacoa, as he had read this was the place where people generally went to snorkle, and so phase two of the bike riding adventure begins. The day looked a bit dreary to begin with, but this would not deter the adventure, and as Vic said, the temperatures being a bit lower than usual made for a more comfortable bike ride.
As they rode along, they came to a fork in the road with a sign pointing left for the tourist resort area, but they decided to go right based on a little bit of research and because they wanted to stay near the water instead of the six lane freeway. The only problem was that a bridge was out, so the adventure just got better as it was portage time.
There was a guy there who gave them a hand. He even packed Vic's bike across. The water was just above the knees, medium current, near the ocean.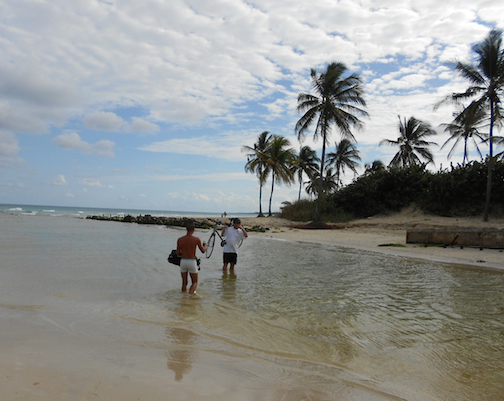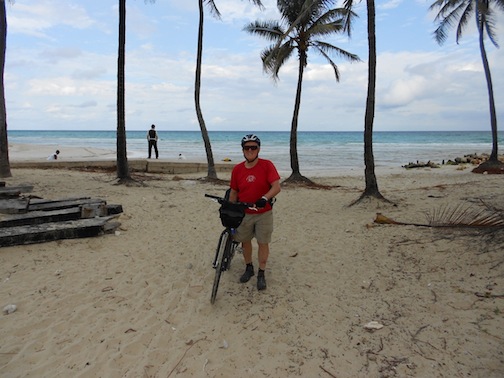 Even with the bridge out, which would make one feel a little weary of the unpredictable chosen route, the boys stayed along the chosen path, hugging the coast, going through little villages, heading south.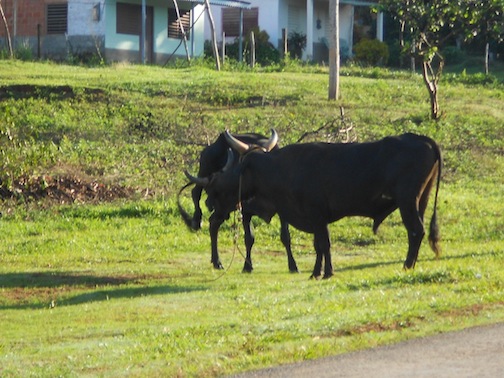 Eventually they got back up to the freeway anyway, as this route took them there.
At this point in the story telling, Vic wants to remind people that he and Darren had the routine of riding for 47 minutes and then taking a break.
They had a great time riding through the little villages and meeting people.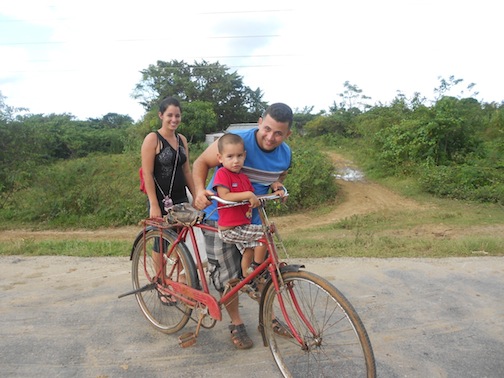 For example, they met a professional chess player. People come up to his booth and challenge him for money. You make a move and hit the timer when playing just like international chess tournaments. They were a little upset when Vic took a photo opportunity and they wanted to make sure Vic was aware that it was a serious game.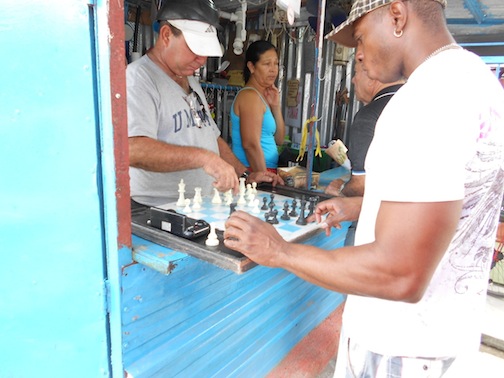 The plan for this trip was to get to a place called Breezes, a beautiful resort in Jibacoa, but it was wet that day and the trip was a little rough, so they called it quits a bit early and didn't go far enough, but managed to find a Casa for the night. They got up the next morning and finally found it, but hit another gate with lots of security, and they manage to go in.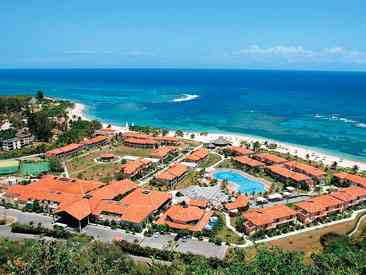 Vic ordered an Americano and told me he made a "slight miscalculation" because he proceeded to ask how much it cost. It was an all inclusive resort! Somehow they had got through the gate and they were supposed to have paid in order to be in there. Oops! The security guard came over and asked if they were going to stay or not, as they would have to pay to stay, but they just wanted a coffee. They managed to sweet talk her and stay for their coffee.
In conversation with a guy form Canada it was suggested not to head a certain way because there was supposedly some crazy pitbull. Crazy pitbull? Of course Darren and Vic decided that that is the direction they should go, because it means more adventure. But, as you might remember earlier in the story with the lazy dogs of Cuba, they were very doubtful they would run into anything aggressive of the canine variety, and they didn't.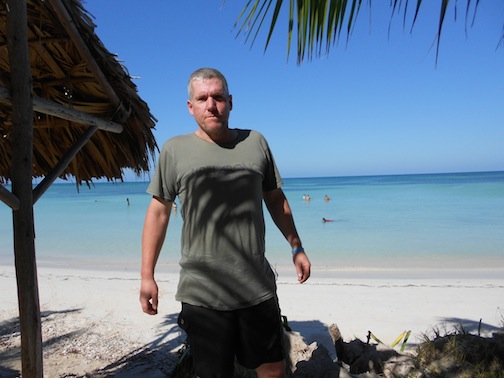 They want to get back now, but wanted to of course take a different route, as everything is an adventure. So, as Darren says, "If there are dogs, there is more of an adventure." There was nothing too eventful on the trip back and they arrived at their resort once again.
Marile, Darren's partner,  gave Darren a suit case of clothes to give away, so he gave them to the lady at the resort they stayed at. She was so very happy. This would be a great spot for a picture of this lady with the clothes, but I don't have one, so on to the next part... 
On the last day, the bus wasn't coming until midnight. They decided to take a $5 bus ride into Havannah, and had lunch at the 'Havannah Chef'. It was gorgeous. Vic had read about it and it had good reviews. There was a husband and wife singing group there, and they came over and sang to Vic and Darren. Vic was reminded of how Darren drove Vic crazy by singing 'Won Ton Amera…" over and over for the whole trip.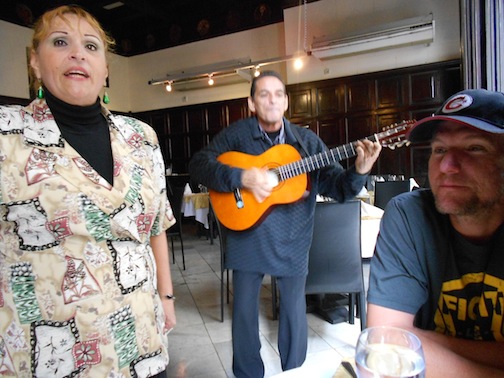 They went back to the original resort and waited for the bus to get them back to the airplane.
I am reading this story, formating the little bits of information and partially labelled pictures and realizing that this is the way to take a trip. Where I live on Vancouver Island, I can stay in some amazing hotels if I just want to get away and have a break from my environment, but if I am travelling to another country, why not get in shape to really enjoy every moment via bike riding?
What a great way to enjoy a vacation. Combatting AADD, Adult Adventure Deficit Disorder. Well done!